CityWell will be partnering with Health Park Pharmacy serving as a vaccination site on Saturday May 15th 2-4pm. We need your help to volunteer by assisting with parking, hospitality, registration, and translation. Thank you for consideration. For any questions please email [email protected]
If you are in need of a vaccine:
Please complete the Health Park Consent Form
Bring your ID and form to our vaccination site.
En Español: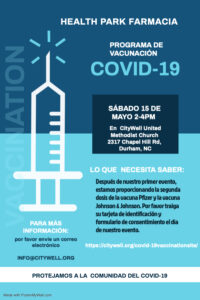 CityWell se asociará con Health Park Pharmacy como centro de vacunación el sábado 15 de mayo de 2 a 4 p. M. Necesitamos su ayuda para difundir las noticias o ser voluntario para ayudar con el estacionamiento, la hospitalidad, el registro y la traducción. Registrarse como voluntario o para obtener más información sobre vacunas. Si tiene alguna pregunta, envíe un correo electrónico a [email protected]