Helius is a nonprofit based in the ReCity coworking space in Durham that, with numerous other community organizations, is working to "rewrite" Durham's story. Helius provides free mentoring and coaching to people building businesses out of necessity to support themselves and their families. Each month, CityWell would like to highlight one of Helius's entrepreneurs in support of the great work of these businessmen and women. 
Pore People. Skincare for the People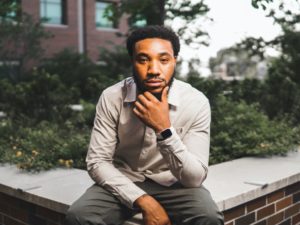 Article written by Tirzah Villegas
The culture around both food and skincare is shifting. Convenience is no longer the most important factor that people consider when shopping for items to care for their bodies, inside and out. As more people educate themselves on food labels, so they are doing with cosmetics and skin care products. Fillers, harmful fragrances and irritants are in the majority of over the counter brands. It is with all of this in mind that Brandon Christian, founder and owner of Pore People, meticulously researches and creates formulas for his plant-based skincare line.
Brandon left  a career in clinical spa management in 2017 in order to dedicate himself to creating products that filled a much-needed gap in the industry. After experiencing sensory assault and a rash from a popular luxury brand, Brandon realized that the product had been marketed falsely. The harsh chemical fragrances and fillers had damaged his skin and left him motivated to find a new product. Not finding anything on the shelves, he created his own skincare that addressed the needs of BIPOC and those with sensitive skin and breakouts.
Pore People uses ingredients from a global supply chain and sources micro-farmed aloe, its main ingredient from Pueblo communities. Brandon is from Durham and hopes to be able to work with local farms to produce ingredients for the products as well as healing plants and learning opportunities for the community. Currently, the company is moving toward 90% bio-based packaging and is dedicated to transparency in every single aspect of production, from plant to application.
This local business is one that has recently completed the LAUNCHDurham training for small businesses in Durham. With a superior product, Pore People needed to get to the next level and discern what the next step was for the business. More than anything, Helius was useful in guiding Brandon to figure out how to identify his market and build his customer's persona. Also helpful was the process of creating a mission statement and pitching the brand in various situations. Helius was created to bring business coaching and classes to those that could not attend traditional business school. Pope People is yet another brilliant and resourceful business that has utilized this organization in order to serve its community.
Check out The Pore People Facebook page here.