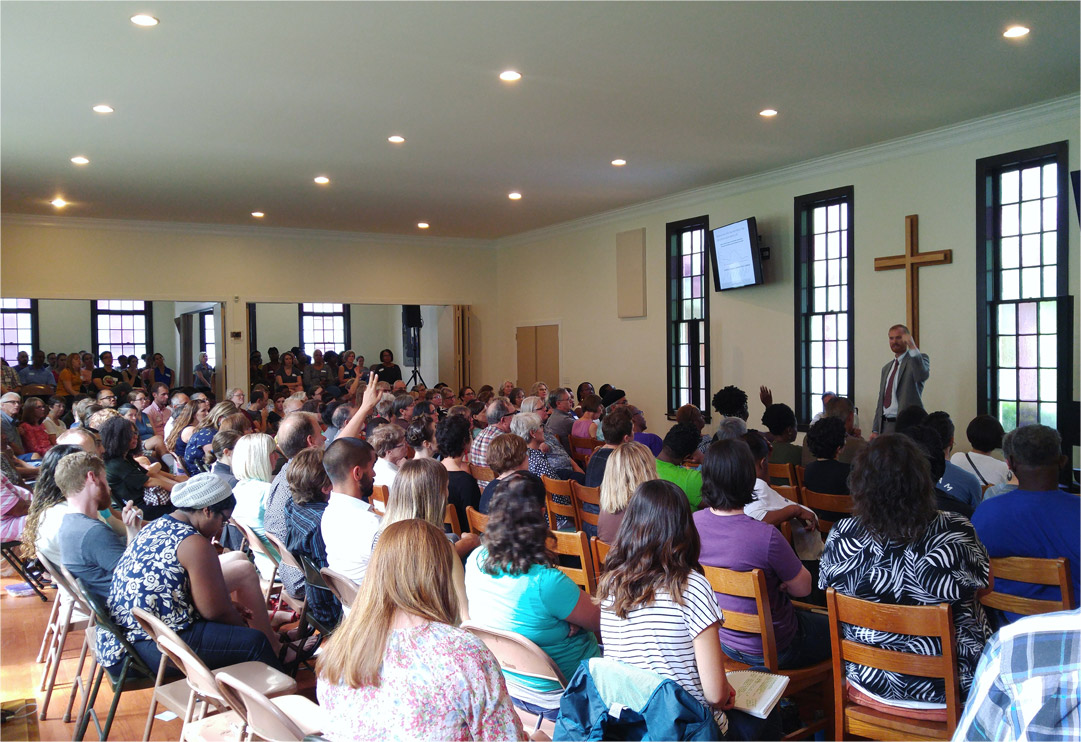 Time
Sundays @ 10:30 am
Location
2317 Chapel Hill Rd.
Durham, NC 27707
Parking on the street or in the rear lot of the Church
accessible via alley on Ward St (see map).
What to expect?
Expect life to happen at CityWell. And we mean just that – life, in all of its uniquely unpredictable expression. This is where it all happens: the eclectic, gleeful, full-bodied worship of your differently-abled neighbor; the joyous embrace of students separated by semester-long adventures; colorful streamers accompanying the unabashed dancing of our tiniest guests, and; the sweet, blended hues of Christ's children gracing a modest podium in purposeful rotation… week after week.
There is nothing flashy here. We are far from polished. But we love being here together.
Sundays here may feel different from your previous church experiences – perhaps more like worship in your living room amongst friends whose hearts are laid bare, who tell of Jesus' truth in diverse languages and stories as unique as our paths to this place. We leave space for unanswered questions, for lament, for unexplained blessings. Come open-hearted and open-handed. We believe you belong, too.
Ways to connect
Our ever-growing, dynamic community is filled with parents and children, students in all ages of learning and development, folks young and old, walking in all stages of life. We anticipate that navigating the beautiful intersection of all of these junctions in life will be both intriguing and overwhelming to folks joining us in worship for the first (or fiftieth) time. We've thought deeply about ways to make your transition into deeper relationship with other CityWell attendees a bit easier, and that starts with our Wells.